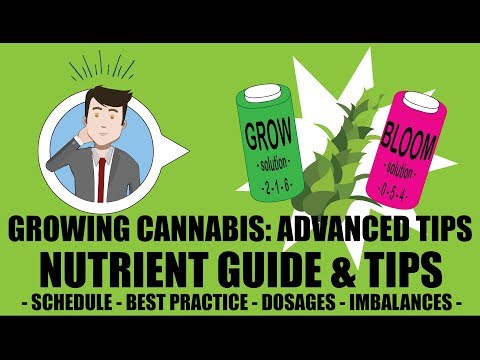 https://cannabisexaminers.com/wp-content/uploads/2018/11/1231/hqdefault.jpg

Weed nutrients for beginners. A complete explanation of seedling, veg, bloom nutrient feeding schedule for marijuana plants in soil or hydroponics. Learn what to do for cannabis nutrient burn, nutrient lock out or deficiency. The quintessential beginners guide to marijuana nutrient schedule feeding, dosages and best practices.
MY GROW EQUIPMENT:
https://fourbudz.com/
FOR EQUIPMENT LINKS AND WHAT I USE FOR MY GROW:
http://www.indicainstitute.com/equipment_recommendations_all.html
Visit www.indicainstitute.com for more courses.
Lesson Timeline:
Lesson Overview – 0:45
Lead In – 1:10
Seedling Stage – 1:41
Vegetative Stage – 2:20
Flowering Stage – 2:49
Dosages & Feeding – 3:22
Nutrient Imbalance – 4:13
Organic vs. Chemical Nutrients – 5:00
The "Best" Nutrient Brands – 5:51
Important Closing Notes – 6:43
Lesson Review – 7:36