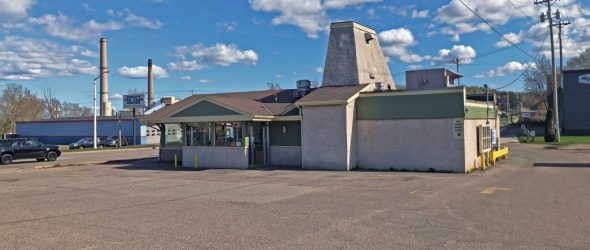 https://cannabisexaminers.com/wp-content/uploads/2020/05/5-23-beef-a-roo-1100x820.jpg
MARQUETTE — The building that formerly housed Beef-a-Roo at 1090 S. Front St. in Marquette could soon be a marijuana retail establishment.
The Marquette Planning Commission unanimously approved a special land use permit for applicant Larren Investments LLC of Bloomington Hills on Tuesday during a public hearing that was streamed via YouTube on the city of Marquette's channel.
Planning Commissioner Antonio Ruiz made the motion to approve the request for the special land use permit on the condition that the retailer's exhaust fan system is up to code. In a roll-call vote, the motion passed 8-0.
With a retail sales area of 1,257 square feet, an exhaust fan working at around 3.3 cubic feet per minute is required, according to a city agenda document.
Mountain Engineering Inc. of Kingsford plans to conduct the construction and landscaping for the property.
With the commission's approval, the applicant could be operational in 90 to 120 days, officials said.
Project manager Myron Berry of Mountain Engineering Inc. addressed the concern regarding the close proximity of the other marijuana establishment, Fresh Coast Provisioning LLC of Charlevoix at 100 Genesee St., which was previously approved by the commission during its May 5 meeting.
"When we found out back a month ago that they had actually applied, I did check with the city and I was assured there's nothing in the city rules and regulations that say we couldn't have two facilities across the street from each other," Berry said. "And therefore we have proceeded in good faith, believing we would be able to have a facility permitted within the city of Marquette."
Ruiz also addressed the competition issue.
"Competition is good. It'll drive prices down. It'll create less monopolies, if anything, (and) maybe it'll be a boom to the south side. If the land development code doesn't have any type of buffering that's inherent right now, I don't see any reason to rely on that or any other argument pertaining to overcrowding to preclude them from the area," Ruiz said.
Planning commissioner Sarah Mittlefehldt echoed Ruiz's opinion, noting that nothing in the city code states that two marijuana establishments cannot be in close proximity to each other.
Buffering between marijuana establishments, however, might be something to look at in the future, she added.
The retailer "intends the use the operation at 1090 Front St. to be limited to the sale of marijuana and marijuana products, with all sales to customers occurring within the building," city documents state.
Furthermore, "any delivery sales will be made in strict compliance" with the Michigan Regulation and Taxation of Marihuana Act and local ordinance requirements. There will be no sales of alcohol or tobacco on the property, nor consumption of marijuana products on the property, according to the documents.
Jackie Jahfetson can be reached at jjahfetson@miningjournal.net
Today's breaking news and more in your inbox