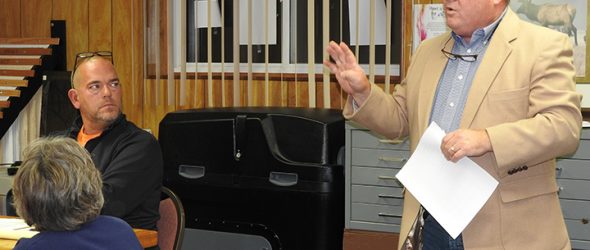 https://cannabisexaminers.com/wp-content/uploads/2019/10/Tom-Reif-WEB.jpg
ALPENA — Tom Reif doesn't consider himself "a marijuana guy," but, rather, "a planning and zoning guy."
Yet the AuGres Township resident and former township Planning Commission member has created his own consulting firm designed to help municipalities make better-informed decisions related to the state's medical and recreational marijuana laws. Voters legalized medical marijuana in 2008 and recreational marijuana last year, but allowed local governments to prohibit marijuana businesses within their boundaries.
"It wasn't anything that I had a particular interest in," he said. "It's just because of my exposure on the Planning Commission that I realized there was a need for information, and it created an opportunity. At some point, every township, city, and village in Michigan has to make a decision on what they want to do. If I can help them understand the laws, then they're in a better position to make an informed decision, and that's really the goal."
Reif worked extensively with the Harrisville City Council and its Planning Commission to draft that community's first-in-Northeast-Michigan medical and recreational ordinances, as well as an amendment to the city's zoning ordinance.
Harrisville paid Reif $5,000 for his services. Mayor Jeff Gehring said the city took a calculated risk when it hired Reif, but that it will recoup that money — and then some — when the city issues the final licenses for marijuana businesses.
"You can have an attorney that may not be familiar with the industry, leaving yourself open to loopholes and other issues you cannot foresee, whereas Tom has the experience to address those loopholes," Gehring said.
'HE'S VERY KNOWLEDGEABLE'
Since helping Harrisville, he's provided services to many municipalities in Northeast Michigan, including Presque Isle County, Rogers Township, and Posen Township. Information about how much those municipalities paid Reif was not immediately available.
Reif said he learned the state's marijuana laws early on because AuGres Township, where he was on the Planning Commission, was one of the first communities to allow medical marijuana businesses. He studied the state law and rules and kept up with the advisory bulletins.
David Harns, communications manager with the Michigan Department of Licensing and Regulatory Affairs, said many municipalities are choosing to work with their attorneys through the new marijuana laws. However, he has heard of consultants working with municipalities.
Harns said consultants are not regulated or licensed through LARA and anyone who is familiar with the state's marijuana laws could call themselves a consultant. He said municipalities need to follow state law and administrative rules.
Presque Isle County Building and Zoning Official Mike Libby said the county ultimately decided to have Denise Cline, chief planner with the Northeast Michigan Council of Governments, draft the county's recreational marijuana ordinance. However, they first asked Reif to make a presentation to the county's planning commission.
"He's very knowledgeable," Libby said. "He's helped a lot of townships write their actual ordinance for this."
FROM GROCERY TO MARIJUANA
Reif began working at his father's IGA when he was 12 and earned his bachelor's degree in food marketing and distribution from Western Michigan University in 1984. Over the years, he has worked in the grocery business, been a small business owner, and operated his own fire safety business.
He also served for nearly two decades on the AuGres Township Planning and Zoning Committee, where, he said, he gained the knowledge and insight needed to form his AuGres-based Michigan Municipal Cannabis Consultants.
AuGres Township Clerk Michael Oxley said Reif was the chairman for the township's Planning and Zoning Commission when he was sworn into office in 2010. He said the township wrote its original zoning ordinance that year.
Oxley said Reif was "instrumental" in drafting those rules, and he was still serving as chairman of the commission when it began reworking that ordinance in 2015.
However, Oxley said Reif ultimately resigned from the board because of a potential conflict of interest when the commission began drafting the township's medical marijuana ordinance. Reif had begun working with a group called Michigan Marijuana Licensing Experts, started by a fellow member of the AuGres Township Planning Commission, that helped people write medical marijuana applications to the state.
"There was no direct conflict (of interest), in our opinion, but the request was made by the township board that he resign at that time, because of the appearance of conflict," Oxley said.
When Reif worked with the Marijuana Licensing Experts, his job was to help municipalities draft ordinances. Reif said he parted ways with the company about 14 months ago to start his own firm.
'IT'S THE CITIZENS'
Reif said he didn't know anything about planning and zoning before serving on the township commission.
Since starting his consulting firm, Reif has provided information about medical and recreational marijuana to nearly two dozen municipalities in the state and says he has helped about half of those municipalities draft ordinances for medical and recreational marijuana.
Reif believes his approach is "quite unique," because of the questions he asks. Reif has created an eight-page questionnaire that asks municipal how many retail stores locations they want in their city and how much they want to charge for permits and licenses, among other queries, and he uses those answers to draft an ordinance taylored to that municipality's needs.
He says the first step he recommends is for a municipality to determine whether they want to allow marijuana in their community or not.
Reif takes a lot of pride in his work and enjoys working with the municipalities.
"The municipality, I view as the people — it's the citizens, it's the community — I'm working with the representatives for the people of that community, and I take that responsibility very, very seriously," he said.
Crystal Nelson can be reached at 989-358-5687 or cnelson@thealpenanews.com.
COMING MONDAY
Check out Monday's edition of The News for a roundup of where Northeast Michigan governments stand on marijuana.