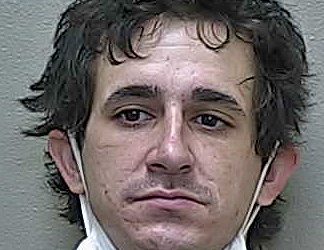 https://cannabisexaminers.com/wp-content/uploads/2020/07/Justin-Shawn-Lanctot.jpg
A convicted felon from Ocala had guns and marijuana in his possession when he was pulled over in a stolen SUV on Tuesday.
Justin Shawn Lanctot, 29, of 1512 NE 23rd St., was charged with grand theft of a motor vehicle, possession of less than 20 grams of marijuana, driving with a suspended license (third or subsequent offense), and three counts of possession of a weapon or ammunition by a convicted Florida felon.
The 2019 white Ford Escape, valued at $25,000, was reported stolen in Belleview on July 9. The victim told a Marion County sheriff's deputy her boyfriend's vehicle was burglarized around the same time, according to the sheriff's office report.
Shortly before noon Tuesday, another deputy saw the stolen vehicle on SE Maricamp Road and conducted a traffic stop. While talking to the driver – Lanctot – the deputy smelled the odor of burnt marijuana emitting from the vehicle. Asked for his license, Lanctot provided a Florida identification car and said his license was suspended, the report said.
A search of the vehicle turned up an ash tray cup in the center console that contained multiple burnt cigarettes and blunts. The blunts tested positive for the presence of THC. Also in the console was a pink camo Ruger LC9S with six rounds of ammunition and an extended magazine with 33 rounds of ammunition. A Springfield XD-9 with 14 rounds of ammunition, according to the report.
Records searches showed Lanctot's license has been suspended 11 times, most recently in April, and he has five felony convictions, the most recent in 2018, the report said.
Lanctot was taken to the MCSO South Multidistrict Office to be interviewed as part of the stole vehicle investigation. Lanctot said he rented the vehicle from another person (name redacted) for $40 for the entire day. He said the other person brought the vehicle to his house and he used it to perform errands, according to the report.
Lanctot said he has known the person for about eight years and knew he stole items from Wal-Mart but didn't know he stole vehicles. The deputy pointed out that it seemed a little suspicious that he borrowed a newer model vehicle for the entire day from a known criminal for $40 without knowing it was stolen. Lanctot said he saw the person in the vehicle about two weeks ago and didn't think it was problem. He tried to make contact with the person by phone but didn't get a response, the report said.
Lanctot is being held on $9,000 bond. He will appear in Marion County Court on Aug. 25.