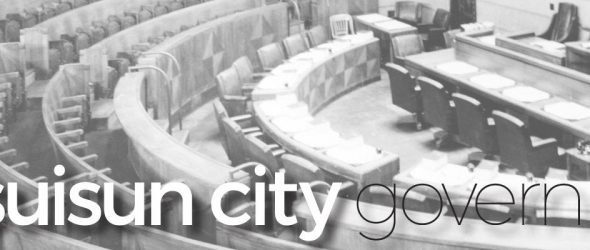 https://cannabisexaminers.com/wp-content/uploads/2020/02/Graphics-Suisun-City-Govt.jpg
SUISUN CITY — A discussion that began March 21, 2017, still seems to be a contentious issue.
Proposed amendments to the Cannabis Regulatory Program didn't sit well Tuesday with council members Mike Segala and Jane Day – and some residents – during the City Council meeting.
The changes include removing a 10-acre minimum requirement for the Cannabis Business Zone, a suggestion that the city may have up to three dispensaries, a consumption cafe/lounge on Main Street and removing a felony conviction(s) for cannabis as a disqualifier during background checks.
Day and Segala voted no after lengthy testimony. The remaining council members, Wanda Williams and Anthony Adams, along with Mayor Lori Wilson, voted yes.
Much of the talk centered on the Main Street location.
Segala said putting a lounge on Main Street was an "insult" to those who had worked so hard to create a family friendly location. He also noted that cannabis business won't be a "cash cow" forever.
"Things are changing," he said. "Mark my word. Amazon drones will be dropping this stuff in backyards."
Williams and Adams noted that Main Street is still struggling and the lounge would bring in some much-needed tax revenue.
"I wish we had Main Street Disneyland," Adams said. "We need something to enliven that area. There are no other options."
He suggested the consumption lounge be part of something like a day spa, adding he didn't want to see it viewed as a drug den.
Email comments were read from residents who couldn't attend the meeting.
There were also residents who spoke in favor of the cannabis business in Suisun City.
Samantha Dennis said in her years of working in the emergency room she never had to tell a family she was sorry because they lost a loved one to cannabis. She added the city is poised to be a wonderful example in Northern California.
Day suggested the plan return to its original roots of the first cannabis business being on Railroad Avenue, and observing it for a year to see how it was going.
"From there we can come back and address it again," she said.
Williams supported the Main Street location, adding that cannabis will bring traffic to downtown.
"It's an avenue to being in funding," Williams said. "I ask you give it a chance."
Wilson noted several Old Town residents were upset with the proposal and asked that the Main Street location not be considered for a year.
Related