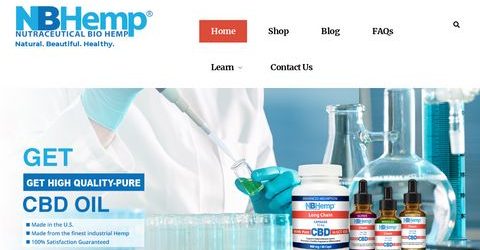 https://cannabisexaminers.com/wp-content/uploads/2020/02/sites-1134.jpg
Located in San Diego, California – NBHemp is an innovative, nutraceutical development company. Its primary focus is on providing unique blends and high-quality Cannabidiol (CBD) based products for nutraceutical and cosmetic purposes, as well as enabling customers to buy CBD oil based products online.
Our vision is to make nutraceutical CBD products with improved health promoting profiles. This will allow our customers to unlock the natural balance and healing power of CBD on a daily basis. In this process, we focus on promoting better health and functionality of the central and peripheral nervous systems, gastrointestinal and respiratory tracts, cardiovascular system, liver, joints, and muscles. NBHemp's products also supports the quality of your sleep.
NBHemp is engaged in the development of unique and proprietary formulations of CBD products that meet the most exacting standards including enhanced bioavailability and stability.
Our CBD products are created using a proprietary formula that improves the absorption and bio-distribution of CBD to quickly reach and engage various important target receptors located on cell membranes thru ought the body. As a result, CBD triggers those cellular cascade mechanisms more efficiently that are responsible for pain relief or immune-response modulation of body.
NBHemp takes quality control and assurance measures seriously. We believe that our customers deserve the highest quality CBD products on the market today, at an affordable price. We are Good Agriculture and Collection Practice (GACP) and Good Manufacturing Practice (GMP) compliant; which means we adhere to the International standard practices during the cultivation, harvesting, and post-harvesting, as well as, CBD oil extraction and purification processes. Due to the fact that we only use highly purified CBD that is completely free from THC, NBHemp products are odorless and tasteless. NBHemp is verified as being free of harmful mold, bacteria, pesticides, heavy metals, solvent residues, and other contaminants.
NBHemp's high-quality formulations and development processes qualify our products as:
THC free
Gluten free
GMO-free
Vegan
Organic
All-Natural
We take great care in the quality of our products, all the way down to the packaging. Our CBD oil products are available in 3 forms – tincture (sublingual drops), spray, and capsules – so you can choose which delivery method is right for you.
CBD products developed by NBHemp have a shelf-life of at least three years. To keep the products stable for this time period, it is advised to store them upright, at room temperature and away from sources of heat and direct sunlight. Store in a dry place.
Because of its high quality, compliant production process from farm to lab, NBHemp's CBD products are the best available. Our rigorous testing makes the finished product a pure formulation that comes with a money back guarantee.
https://cbdclick.net?apiKey=qwDKqO81&site=1134