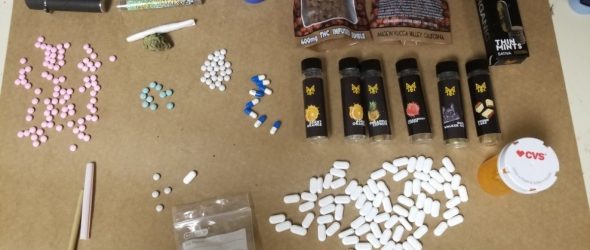 https://cannabisexaminers.com/wp-content/uploads/2020/05/20-25132.jpg
Would you like to receive local news notifications on your desktop?
Posted at 9:31 AM, May 23, 2020
and last updated 2020-05-23 10:31:59-04
RACINE — The Racine County Sheriff's Department has taken a 57-year-old man into custody after they found various drugs in his vehicle.
The man was traveling southbound on I-41 near STH 11 around 10:45 p.m. when police noticed him deviating from his lane.
Deputies conducted a traffic stop and discovered various drugs inside his vehicle. They then asked the man to get out of the vehicle and saw signs of impairment.
The suspect took a field sobriety test and was then arrested for operating while under the influence, 2nd offense.
After searching the vehicle, deputies found the following items:
2.1 grams Marijuana
2 400 mg Edible THC Cereal Bars
8 THC Vape Cartridges
206 Hydrocodone and Oxycodone pills
Drug Paraphernalia
The man was transported to the Racine County Jail and is being held on the following charges:
Felony Possess/ Illegally Obtained Prescription Repeat Drug Offender
Felony Possession of Marijuana Repeat Drug Offender
Felony Possession of Narcotic Drugs Schedule 1 and 2 Repeat Drug Offender
Operating While Under the Influence 2nd Offense
Copyright 2020 Scripps Media, Inc. All rights reserved. This material may not be published, broadcast, rewritten, or redistributed.