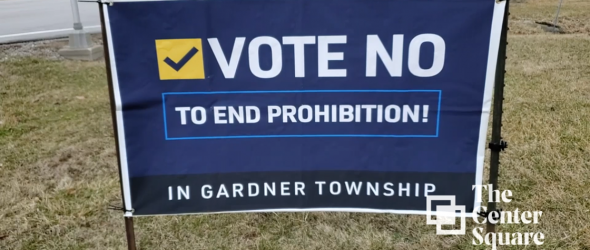 https://cannabisexaminers.com/wp-content/uploads/2020/03/5e6ac2edb2a1f.image.png
Voters throughout Illinois will be deciding on a variety of local measures Tuesday, from a binding referendum to end alcohol prohibition, to non-binding questions about splitting Chicago from the rest of the state and more.
If there's a local referendum, you don't have to choose a Democratic or Republcan ballot for Tuesday's Illinois Primary. You can still have your vote count on important issues.
While many voters will be requesting a Democratic or Republican ballot to choose who from either party will be heading to the November general election, Illinois State Board of Elections spokesman Matt Dietrich said that's not always the case.
"A lot of people over the years have stayed away from primaries because they don't like having to declare a party," Dietrich said. "Well, if you want to vote on a local referendum, you don't have to declare a party to do that. Of course, if you go in and ask for a Democratic or Republican ballot, the referendum will also be on there."
Terry Farmer is on a committee to end prohibition in Gardner Township, northwest of Springfield. He said a "no" vote would finally end prohibition in his township.
"We'd like to have a convenience store, we'd like to have maybe a craft beer, a winery, something around that would also provide additional tax base and possibly ease the burden on property owners and their taxes," Farmer said.
Collin Cliburn founded the Illinois Separation and helped organize non-binding referenda for Jefferson, Fayette and Effingham counties to split Chicago from the rest of the state.
"The reason that I founded the Illinois Separation is because I'm really tired of the Chicago-area politics telling the rest of the state what to do," Cliburn said. "I think it's important that we make the move now because all that we've seen is failure after failure from our government."
Cliburn said there are more counties that could get similar questions lined up for consideration in November's General Election.
ISBE's website features a section where you can find more than 100 referrenda from around the state that will be on local ballots Tuesday.
"A fair number of them are municipal advisory referenda asking should their be cannabis sold within the village limits, or city limits," Dietrich said.
Of 125 referenda listed on the ISBE website, 25 have something to do with cannabis. Some are general. Others are more precise.
"Shall the City of Greenville allow cannabis dispensaries within the City Limits?," a question for the Bond County residents asks.
In the Macon County community of Maroa, voters will be asked "Should the City of Maroa, Illinois allow the establishment and operation of an Adult-Use Cannabis Infuser Organization or Infuser, an Adult-Use Cannabis Processing Organization or Processor, or an Adult-Use Cannabis Transporting Organization or Transporter within city limits?"
There are 39 different referenda dealing with taxes.
In JoDaviess County, residents of East Dubuque will be asked to increase taxes. "For 2020 levy year the approximate amount of the additional tax extendable against property containing a single-family residence and having a fair market value at the time of the referendum of $100,000.00 is estimated to be $98.01," the question partially states.
Seventeen questions deal with some kind of bond issue.
Voters in the Williamsville Community Unit School District #15, for example, will be asked if the school district should "issue bonds of said School District to the amount of $40,000,000 for the purpose of paying the costs [of building new schools]?"
The election is March 17.
###