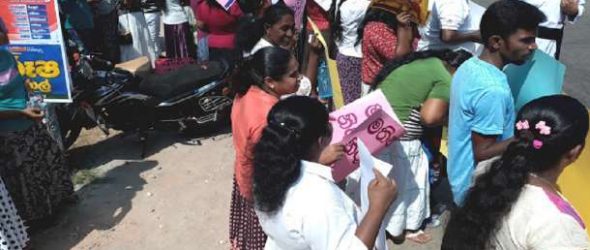 https://cannabisexaminers.com/wp-content/uploads/2020/09/check-sri-lankan-religious-leaders-oppose-cannabis-cultivation-5f6adcd5d9617_600.jpeg
Sri Lankan religious leaders say they are saddened by the efforts of some groups to promote cannabis cultivation at a time when the government is taking strong measures to eradicate drugs from the country.
Ven. Ittapana Dhammalankara Thera, chief prelate of Kotte Sri Kalayani Samagri Dharma Maha Sangha of Siyam Maha Nikaya, said the government should take immediate action to stop all promotions related to cannabis.
"Regular drug raids should be further strengthened and action should be taken to eradicate narcotics from the country. At the same time, the government should make every effort to strictly enforce laws and eradicate drugs including cannabis from the country," he said.
Experts claim that the country can generate high revenue from the cultivation of cannabis. Recent research has shown that if drugs based on cannabis are manufactured and exported, it will be possible to earn more foreign exchange than is earned from all exports.
Sri Lanka has become a major transit point for traffickers as well as suffering from widespread drug addiction. Cannabis and heroin have become the top two narcotic scourges in the country. Concerns are growing about drug abuse among young people including children.
Cannabis cultivation is banned even though it is allowed to be grown in sufficient quantities as it is used in traditional Ayurvedic medicine, but some people argue that other countries allow the cultivation of cannabis. Legalization of cannabis has become a hot topic on social media.
Ven. Dhammalankara Thera said if cannabis cultivation is permitted, the entire nation will be destroyed.
"The media should take steps to curb the promotion of cannabis and the issue of cultivation creates a national problem," said Ven. Dhammalankara Thera addressing a press conference convened by the Sri Lankan Temperance Association at the All-Ceylon Buddhist Congress on Sept. 22 in Colombo.
Top Buddhist monks, Cardinal Malcolm Ranjith and medical officers are involved with the Sri Lanka Temperance Association.
According to the National Dangerous Drugs Control Board, around 97,000 people are addicted to heroin and some 400,000 are addicted to cannabis.
Ven. Dhammalankara Thera said ministers should help the president in his efforts to rid the country of the menace of drugs. About 40,000 people die every year in Sri Lanka due to smoking, alcohol and drug abuse.
Ven. Thirikunamale Ananda Thera, Mahanayake of Amarapura Chapter, said some people promote cannabis by promoting Ayurveda medicine. "These people promote drugs on social media. We ask them not to give such publicity," he said.
Cardinal Ranjith said: "We have heard from the media that some international organizations and embassies are also discussing legalizing cannabis and even certain ministers have made comments on the use of cannabis."
He added that he is happy with the government's efforts to control drugs.
The prelate urged the government to continue to take stern action against drugs. "If cannabis is legalized, it will create another menace in the country," he said.
Cardinal Ranjith issued a pastoral letter in April 2019 urging all parishes and church institutions to denounce drug peddlers.
Catholics priests and other religious leaders have also organized rallies against the increased abuse of illegal drugs.
Former president Maithripala Sirisena vowed to implement capital punishment for drug traffickers. During his tenure as president, the government advertised for the position of hangman and more than 100 people applied for the post.