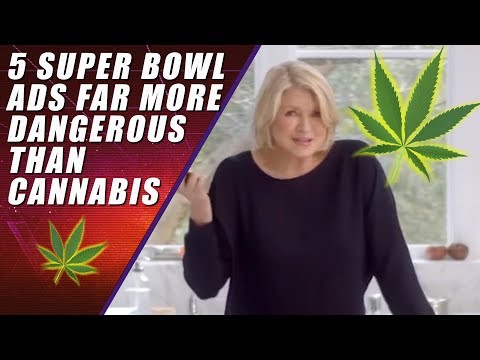 https://cannabisexaminers.com/wp-content/uploads/2019/01/3740/the-rejected-super-bowl-cannabis-commercial.jpg
The Rejected Super Bowl Cannabis Commercial. CBS rejected a medical marijuana ad, not allowing it to air during Super Bowl 53 (LIII). Considering every other ad during the Super Bowl is for beer this seems strange. Presenting 5 SB ads far more dangerous to your health than cannabis. Which commercials do you want to see during the Rams vs. Patriots game?
Subscribe:
https://www.youtube.com/user/thatsgoodsports?sub_confirmation=1
That's Good Sports argues in favor of not just medical marijuana commercials during the Super Bowl, but in support of any sort of weed commercials. Bud Light, Carl's Jr., Doritos, and all sorts of other fast food and alcohol ads promote things that aren't just harmful to your health, provide no real benefits as medicine like marijuana. The real story here is that CBS turned down a potential ad offer from Acreage Holdings, a cannabis investment firm, that would have paid them $5 million for a 30-second ad spot. That's a pretty standard offer for the Super Bowl, which is really a monetary shit ton when you compare that to $500K for game 7 of the World Series and about 2 million for the Oscars. #SuperBowl53 #Cannabis #Rams Every year the day after the big game we see plenty of Top 10 and Top 5 of the best super bowl commercials. What about the Top 5 most misleading or inappropriate commercials, or in this case the banned cannabis ad?
Writing Help by Will Keys @WillKeys6
Patreon Website:
https://www.patreon.com/thatsgoodsports
STORE:
https://shop.spreadshirt.com/ThatsGoodSports
PODCAST:
https://thatsgoodsports.podbean.com/
Twitter: https://twitter.com/BrandonPerna
Facebook: https://www.facebook.com/thatsgoodbroncos
Instagram: http://instagram.com/brandonperna
PAID SPONSORS:
S*** Posting Sports Friends!
FivePoints Vids – The Best TOP 5 sports videos on YT
https://www.youtube.com/user/Madden5Points
UrinatingTree – This Week in Sportsball
https://www.youtube.com/user/ESchlasser/videos?disable_polymer=1