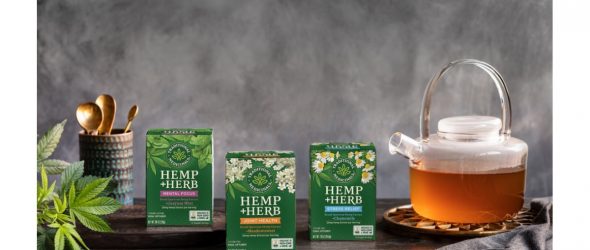 https://cannabisexaminers.com/wp-content/uploads/2020/09/Hemp+Herb_Bagged_Tea.jpg
SEBASTOPOL, Calif.–(BUSINESS WIRE)–Traditional Medicinals, pioneer of the wellness tea category in the U.S., today introduces Hemp+Herb bagged teas into its apothecary of herbal teas. The Hemp+Herb line consists of three teas specially formulated to support mental focus, stress relief, and joint health. With taste and efficacy in mind, each formula is supported by a combination of expertly-selected medicinal herbs and the power of 20 mg of broad-spectrum hemp extract to deliver specific wellness benefits.
The synergy of ethically sourced, high-quality herbs and broad-spectrum hemp come together to support three specific functional needs:
Hemp+Herb Joint Health – To support a healthy response to inflammation associated with an active lifestyle, the broad-spectrum hemp extract is complemented by meadowsweet for a floral and mildly sweet tea.*
Hemp+Herb Stress Relief – Chamomile and broad-spectrum hemp extract fuse together to create this calming tea that supports relaxation and soothes the occasional nerves.*
Hemp+Herb Mental Focus – Broad-spectrum hemp extract, guayusa, yerba maté, and mint combine in this minty and lightly roasted tea to support mental alertness and sustain energy levels at any time of the day.*
The launch signifies Traditional Medicinals' longstanding commitment to providing consumers with high-quality, medicinal-grade herbal products using innovative and sustainable practices. To harness the power of their organic hemp, only the aerial (above soil) parts of the plant are used in order to preserve as much of the plant's naturally occurring constituents as possible. To then create the organic hemp extracts, an organically-certified CO2 extraction process is used to concentrate the active constituents without the use of any petroleum solvents.
"Traditional Medicinals has made medicinal herbal teas since 1974 and has been inspired for years by the increase in the usage of hemp," said Blair Kellison, CEO of Traditional Medicinals. "Hemp is one of the most important herbal medicinal plants and has been used by herbalists for many decades; we're excited that we've been able to source high-quality organic hemp that meets our industry-leading herbal ingredient standards."
Traditional Medicinals knew that in order to enter this category it needed to uphold its high standards for sourcing to provide consumers with the highest quality hemp and herbal ingredients.
"We evaluated 50 hemp extract suppliers and chose to work with a European company that shares Traditional Medicinals' values to treat plants with respect and care," added Kellison.
Traditional Medicinals Hemp+Herb teas are sold in boxes of 16 tea bags with an SRP of $16.99. The Hemp+Herb line of teas can be found at select health food stores, on Amazon and other online retailers. To order or find a store near you, visit www.traditionalmedicinals.com.
About Traditional Medicinals
Traditional Medicinals, Inc., a California Benefit Corporation, Certified B Corporation and California Certified Green Business, is a leading seller of herbal tea in the U.S. and pioneer of the wellness tea category in the U.S. and Canada. Founded in 1974, Traditional Medicinals is an independent company that embraces sustainability, ingredient quality, and social and environmental activism. With more than 50 high quality teas specially formulated by herbalists, Traditional Medicinals is passionate about connecting people to the power of plants. For additional information, visit www.traditionalmedicinals.com.
*These statements have not been evaluated by the Food and Drug Administration. This product is not intended to diagnose, treat, cure, or prevent any disease.