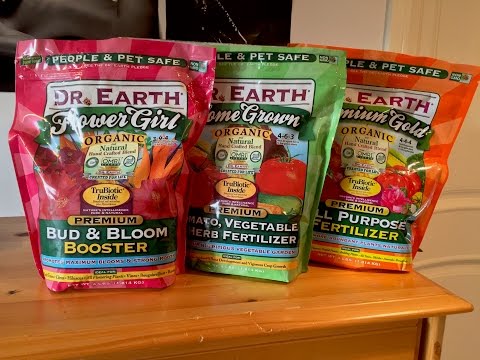 https://cannabisexaminers.com/wp-content/uploads/2018/11/1221/hqdefault.jpg

For more how-to Grow Videos visit greenboxgrown.com
I am very excited to announce that we received an amazing care package from our friends over at Dr. Earth, and I decided to post a video of me doing the unboxing. For those who don't know, Dr. Earth specializes in All Natural and Organic fertilizes, soils, Fungicides, and more! Dr. Earth has also been GMO Project Certified for all of their products.
In the box, you will see I received their 3 main Fertilizers, a bar of special gardening hand soap, and some awesome t-shirts! The 3 fertilizers are everything you need to grow out your cannabis plants from start to harvest, as their is 1 nutrient for overall plant health, 1 for The Vegetation stage, and 1 for the Flower Stage. When working with your cannabis plants, especially while they are in flower, you will notice they leaves a strong scent and resin on your hands. This usually doesn't come off from regular hand soap, which is where the Dr. Earth Bar comes into play. This bar of soap will remove any sort of sticky gunk that gets stuck to your hands.
As I mention in the video I have used Dr. Earth products in the past, including their fungicide spray. This spray is great for eliminating White Powdery Mildew, along with a million other types of fungi. What's great is since it is all natural and organic, their is no residue or stinky smell left on your plants afterwards, and you still have the cleanest cannabis possible as you don't have to use pesticides and other harmful products.
With the Dr. Earth Products I have used, there have always been great results, so I am really excited to have this opportunity to put their nutrient lineup to the test. I will be doing a Cannabis Grow series in the coming months, where I only use Dr. Earth Nutrients and products on the plants, so all of you can see just how great their products are and what kind of Organic results they deliver!
Be sure to be on the look out for that new series coming soon, and as always Happy Growing!
Cannabis growing can seem like a really daunting and expensive activity, but it is much easier than you think! The GreenBox Grown video series breaks down each step of your grow and really simplifies the process, making it easy to follow. You will also learn how to grow on a budget so you don't have to break the bank to get started! No matter what your growing experience may be, if you follow the GreenBox Grown series, you are guaranteed a successful harvest! Always have a supply of cannabis when you Grow Your Own.