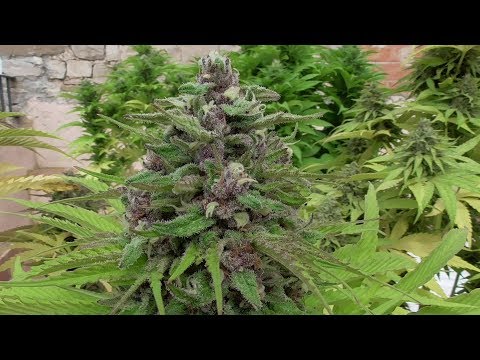 https://cannabisexaminers.com/wp-content/uploads/2018/11/1223/hqdefault.jpg

18+ GROWING CANNABIS OUTDOORS AND OFF THE GRID #12
Top Shelf Grower welcomes you to the roof-top cannabis garden at the end of week 12, 84 days post-germination. These are the final four photoperiod cannabis plants. This week was perhaps the most challenging week of outdoor cannabis cultivation I've experienced.
All four cannabis plants are in bloom and despite the decrease in temperatures and some heavy rain they are looking healthy. Although I did have an issue with mold due to the high humidity.
The good news is I am pleased to confirm my second even bigger Bruce Banner #3 is also beginning to produce purple buds. That's two purple pheno Bruce Banner #3 and not a hint of purple from either of the Purple Queen plants. But the Purple Queen pair still look dank and they have proved themselves to be resistant.
Hopefully, the good weather will return and I'll be able to successfully bring the final four outdoor cannabis plants to harvest in the next few episodes of Growing Cannabis Outdoors And Off The Grid.
Support Top Shelf Grower On Patreon: https://www.patreon.com/topshelfgrower
Thanks for watching. Please Like & Subscribe for more.
Become a patron for $1 on Patreon and help me continue the show in 2019.