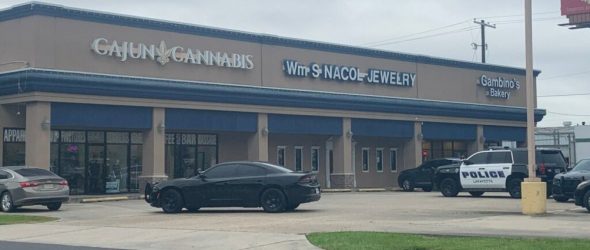 https://cannabisexaminers.com/wp-content/uploads/2020/08/cajun-cannabis-8-25.jpg
Lafayette Police confirm that they have an open investigation into Cajun Cannabis in Lafayette.
Police were at the store on Johnston Street earlier on Tuesday, August 25.
The owner of Cajun Cannabis, Travis DeYoung, tells KATC that he was picked up by Lafayette Police and that an employees at the store's Bossier City location was arrested.
A spokesperson with the Lafayette Police Department says that they have made no arrests.
Police are planning on releasing more information on their investigation later this afternoon.
DeYoung was formally charged in January in connection with an overnight raid on his store in April 2019 by the Lafayette Parish Sheriff's Office.
In July, the charges made against DeYoung were dismissed by the District Attorney's Office.
To read more: Charges against Cajun Cannabis owner dismissed
————————————————————
Stay in touch with us anytime, anywhere.
To reach the newsroom or report a typo/correction, click HERE.
Download our free app for Apple, Android, Roku and Amazon devices.
Sign up for newsletters emailed to your inbox. Select from these options: Breaking News, Evening News Headlines, Latest COVID-19 Headlines, Morning News Headlines, Special Offers